How Your Brand Can Stand Out On Social Media With Animation
Want your social media posts to gain more attention? Or perhaps you want to create more engaging content? Then social media animation is your new best friend! So let's get to know it better…
What is Social Media Animation?
Basically, any animated content created for social media is social media animation. Besides animated videos, there are so many different ways to use animation in your marketing strategy.
When it comes to animation, good quality is a must. Engaging an established animation and motion graphics studio will ensure that your animated videos are of high quality. Good animation will also help you stand out by establishing your brand's unique identity through a distinct animation style.
You can also use motion graphics to grow your business!
With endless possibilities, social media animation gives you the opportunity to unleash your creativity and produce content that is fresh, engaging and innovative. But you may be wondering, what makes social media animation so special? And more importantly,
Why Will Social Media Animation Help Your Brand Stand Out?
Animated Content is Attention-Grabbing
As attention spans shrink, businesses need to find new ways to retain their audience's attention. On the other hand, audiences are looking for something worth their watch. Animation bridges these needs perfectly.
Animation is well, animated. It's bursting with life and with its bright splashes of colour, it's bound to be eye-catching. As your audience scroll through a feed that's filled with live videos and photos, your animated content will feel like a breath of fresh air.
With so many brands fighting for attention on social media, your animated post effectively cuts through all that noise.
By retaining your audience's attention, there will also be higher chances of audience engagement through likes, comments and shares. This will cause the algorithm to boost your posts, making it visible to a wider audience. Consequently, your brand can become more popular and established.
Animated Content Leaves a Stronger Impression
When done right, animated content is memorable. Just take a look at some of these awesome animated explainer videos. Whether it's a good story or a visually stunning animation, if it resonates with your audience, your animated content has already left a strong impression.
Not only will it strengthen your brand identity and build brand awareness, it can increase conversion rates. After all, audiences only click on ads for one reason only — interest.
Animated content is effective at creating interest because it's entertaining! It gives viewers a reason to keep watching and sustains their interest.
With a distinctive style and voice, your animated social media posts will be infused with creativity and originality, which are traits that audiences prize.
Animated Content Helps Simplify Complex Concepts
Animation is one of the best ways to get complex ideas across to a mass audience. If you're introducing a product or feature, there may be technical terms that your audience may not be familiar with and animation takes care of that!
By replacing technical jargon with simple visuals, it's a lot easier for audiences to digest the information. The accompanying graphics also help viewers visualise these concepts and better understand them. Did you know that humans process visuals 60,000 times faster than text?
If you plan to do corporate videos, explainer videos or instructional how-to videos, animation is a great choice! Though if you want a really effective animated video that aligns with your company's objectives, be sure to hire an animation studio that is well-versed in corporate video production, explainer videos and so on.
Animated Content is Cost-Effective
Compared to live videos, animated content is often more affordable to produce. Live videos require more resources like actors, a production crew or voice actors. They also require more time and preparation for tasks like location scouting. Of course, costs can vary depending on the requirements of a project so at times, animated content may not always be the more affordable solution.
Most of the time though, social media animation requires less effort and may even generate higher returns. With reduced production costs, you can dedicate more energy to perfect your animated content.
Animated Content Creates Nostalgia
Animation reminds your audience that life isn't always a drag.
People associate cartoons with the simpler days of childhood. Naturally, social media animation will also retain that essence of fun and present information in a light-hearted and lively manner.
This is also why animated videos are more likely to evoke positive emotions because at its heart, it's meant to be fun and entertaining!
Short and snappy animated content will certainly pop out when you scroll through your social media feed. In fact, it's so engaging that it's effective on all kinds of social media platforms.
Here are Some Examples of Awesome Animation on Social Media
To show you how versatile social media animation is, these are a few examples of animation on different social media platforms.
Nippon Paint Singapore – TikTok
With an iconic animated mascot, Nippon Paint has found their groove on TikTok. Their animated TikToks are on trend and hilarious. It also shows Nippon Paint's creativity and their ability to relate to TikTok's younger demographic.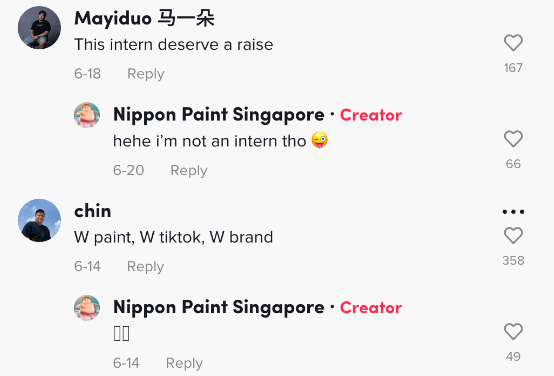 From the comments, it's clear that their animated TikToks are well received and it has certainly established a positive brand image.
Adobe Photoshop – Instagram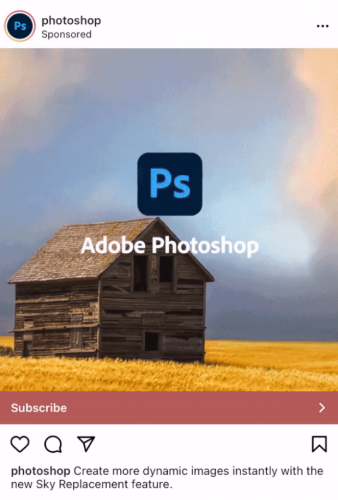 Succinct yet effective, this short animation perfectly demonstrates Adobe Photoshop's new sky replacement feature. By showing you how it's done, it acts as a great tutorial! By showing how quickly it can be done, it's also a great incentive for viewers to purchase a subscription.
Talk about killing two birds with one stone!
Spotify – Facebook
Presenting statistics and facts doesn't have to be dry and boring. Just look at how Spotify did it!
Motion graphics makes this ad visually interesting. The bright colours are eye-catching and succeed in drawing your attention to the data. The data builds their brand credibility and accompanied by their usual branding, it reinforces their brand image.
Gojek – YouTube
A speedy introduction to Gojek's new features, this animated video ad titled "New on Gojek" shows off all that Gojek has to offer. With vibrant animation and snappy music, its zesty energy retains your attention and walks you through Gojek's features.
The best part? It's produced by our very own team at CraveFX!
Create your very own social media animation
Now that you've seen how social media animation helps your brand stand out, you might want to get started on your own animation.
However, social media animation is not an easy task. Working with an experienced animation studio will give you one less thing to worry about. To find out more, feel free to contact us here!