Nickelodeon's popular Avatar series will be releasing an animated film diving deeper into the lore of the Avatar universe.
The development of the animated film was made official after media conglomerate ViacomCBS announced its impending release during a virtual presentation for upcoming streaming service, Paramount Plus.
While Avatar only spanned three seasons, it dealt with a huge array of important issues like politics, identity, and ethics while showcasing impressive character development and world-building. Most of all, it garnered a huge fan base that has been earnestly waiting for a follow-up to the animated series.
The aforementioned fan base has also unanimously agreed to never speak of the cinematic train wreck that was the live action remake.
Launch of Avatar Studios: Going deeper into 'Last Airbender' & 'Korra' worlds
This movie comes after 15 years of waiting.
It will be produced by the newly launched Avatar Studios – headed by the series' original creators and executive producers – Bryan Konietzko and Michael DiMartino, who will be serving as co-chief creative officers under Nickelodeon Animation president Ramsey Naito. Projects will be distributed across various platforms, comprising Nickelodeon's own linear and digital platforms, ViacomCBS' subscription video-on-demand service, third-party platforms and through cinemas.
Nickelodeon's trademarks – creator-driven characters and stories – are what makes the titan television channel. Avatar Studios paves the way for the creator duo to gain access to more resources that would aid in diving deeper into the mythology and action of Avatar.
Production of the animated film will commence later this year, and Paramount will give it a theatrical release. Unfortunately, we don't know what the exact plot of this movie so we'll just have to wait for more information.
Unravelling the Avatar franchise's animation
With large-scale fights on par with big-budget Hollywood smash hits and hand-to-hand fighting on the same level as classic kung-fu films – Avatar set a high bar for action and sense of scope.
Every nation had their own distinctive style of bending, inspired by real-life martial art forms – making the battles appear fluid and grounded in reality. Show creators also took the approach of animating the series as if it was live action to make the show come to life.
This attention to detail created a series that became known for its authentic, realistic action sequences.
According to Entertainment Insider, the clip sheds light on Avatar's bending style by introducing Sifu Kisu, one of the lead action choreographers for the series. Kisu, along with other martial artists, would prepare reference footage for the animators. American animator and director Giancarlo Volpe who also worked on Avatar, chipped in with a somewhat tongue-in-cheek 'step-by-step' process to create a fight scene in the series.
How to animate authentic feeling martial arts:
1) Hire martial artists, bonus points if they are extra imaginative
2) Actually pay said martial artists
3) Open the schedule to film non stop kung fu reference meetings
4) Give artists extra time to draw the 100,000 required poses https://t.co/3bFgML6kD7

— Giancarlo Volpe – BIack Lives Matter!! (@Giancarlo_Volpe) January 16, 2021
Despite being an American production, Avatar feels deliberately anime-esque. This should be evident from the facial proportions and exaggerated expressions of the characters. Avatar also deploys the anime style for comic relief quite effectively.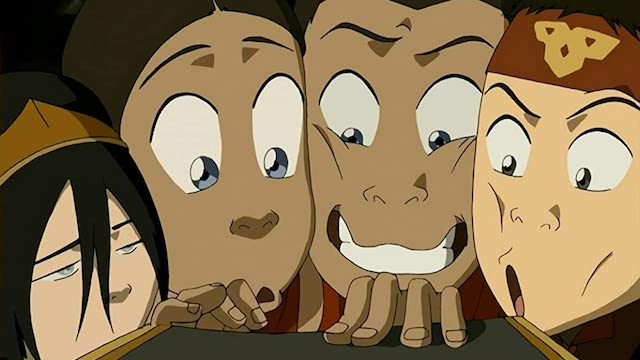 Source: IMDB
It is no coincidence that Avatar contains long dialogue scenes paired with a camera panning over a still frame. This was done for reasons of budget and plot. Extra budget could then be channeled towards epic fight scenes and complex character designs. The backstory, on the other hand, is narrated in a snappy manner with the moving camera trick, keeping audiences engaged with the illusion of movement.
The main takeaway
The perfect recipe comes with the right ingredients. And in Avatar's case, the right ingredients are a blend of impressive character development, environment creation, engrossing storylines, and of course – its spectacularly animated fight scenes and bending styles.
So, just like Avatar – you too can make sweet music with the correct notes. Here comes the subtle plug you've all been waiting for.
In fact, when it comes to animation – CraveFX, is a video animation company that can turn your concepts into a reality.
We offer visual effects and motion graphics, 3D animation, and on top of that, interactive video services to cater to your video style and concept. Simply get in touch with us and pick our brains – we'll discuss the animated video production cost on our end, pop over the rates, and put together a budget that hopefully works for you.