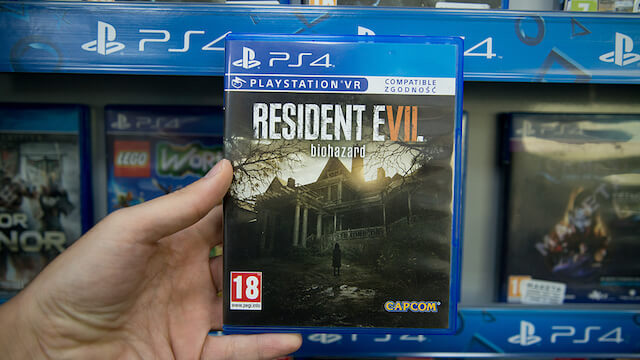 In fact, Netflix is gradually moving towards video games for new sources of content. And this strategy does seem to be paying off. According to Ampere Analysis, a market-leading data and analytics company, video game adaptations make up almost 8% of Netflix's offering, coming in third behind comic book adaptations and novels-turned-programmes.
Let's find out more about Resident Evil.
Welcoming Resident Evil: Infinite Darkness to Netflix's endless game-based programmes
Resident Evil has incredible street cred as one of the original survival horror games. The first Resident Evil game was released in 1996 and it did well enough to warrant multiple spin-offs, sequels and re-makes over the years, with the latest iteration, Resident Evil Village, marked for release in 2021.
The upcoming series, named Resident Evil: Infinite Darkness will be completely done in 3D animation and focusing on two all-time fan-favourites – Leon Scott Kennedy and Claire Redfield.
The programme will undoubtedly be headed by Capcom as usual, with Hiroyuki Kobayashi, a Japanese video game and anime television producer handling the production and supervising the game's development.
The series will take its direction from Capcom and produced by prominent anime company TMS Entertainment.
Here's what we could gather from their recent trailer – Claire enters an abandoned building and encounters an off-screen unspeakable horror. Leon, on the other hand, is forced to defend himself with his handgun before the screen fades to black.
But then again, the trailer's emphasis wasn't on the storyline but rather, on exceptional render quality – from dust motes in the air to the expressiveness of the characters.
The transformation of Resident Evil's franchise: Graphics
The stepping stone: Resident Evil 1 to 3
In Resident Evil's first 3 incarnations, character design couldn't achieve its full potential due to technological limitations. So, distinguishing between protagonist models meant working with striking colours and shoulder pads to preserve a discernible distinction between protagonists and fuzzy, low-quality zombies.
With that being said, the very first Resident Evil (1996) title impressed many with its visual quality. When coupled with the game's phenomenal storyline and memorable characters – Resident Evil (1996) became a runaway hit with its audience.
Resident Evil 2 and 3 also received tons of love and praise from their fans – so much so that Capcom decided to revisit the two games and go forward with their remakes.
Not quite there yet: Resident Evil 4 to 6
In comparison to the Resident Evil 1 to 3, the character models still look pretty decent – but their exceedingly smooth, close to plastic skin makes them appear to have an action figure-like quality. Similarly, the surroundings are filled with choppy textures, especially when the player is outdoors.
But it's not as if the production quality caused the next few games to be less popular – that would be entirely the fault of the gameplay change. Resident Evil 5 and 6 lost the elements which made the horror-action series fantastic – by taking away the "isolation" experience after adding co-op gameplay; which leads up to them returning to their roots after releasing Resident Evil 7.
Back to the humble origins: Resident Evil 7
We saw refinements made to the character models as the main characters had their outfits refreshed to reflect the nature of their predicament. Specifically, Claire and Jill ditched their skirt and hot pants in favour of slightly more sensible attire.
Realistic facial expressions and movements were also applied to the main characters during both the cutscenes and the actual gameplay.
Scrap the old and start anew: Resident Evil 2 & 3 remakes
By utilising full body performance capture, the production team captured movement data which could be applied directly in the animation, with minor refinements for additional polish.
In the remake of Resident Evil 2 (2019), the game developer paid extra attention to gore, and the dynamics of splatter. Undead foes now feel like they're jumping off the screen at you. The game achieves a heightened level of realism and begins to take on an almost cinematic quality.
In the remake of Resident Evil 3 (2020), the RE graphics engine from Resident Evil 7: Biohazard is utilised yet again to great effect. The environment overflows with detail. It would not be amiss to say that the Resident Evilseries is almost Hollywood-esque at this point.
What's ahead: Resident Evil 8
Fans of the series can expect a treat for their eyes. Resident Evil 8's graphics are considered heads and shoulders above whatever is currently in the market. We don't know much about the storyline, but we can confirm that it'll probably be the same tried-and-tested formula of puzzle solving, zombie-slaying and staying alive.
We recommend playing this on an empty bladder.
The sum and substance
Just like Capcom's undying resolve to meet fans' demand over the years – your business can take this in as a learning point to grow your brand as you pay heed to your own customers' feedback to create content or products that speak to them.
So, if you're ever in need of a helping hand – CraveFX is here to offer all sorts of animation services from motion graphics to curating interactive content. Send in an enquiry, include the objective of your video, specific animation style, and preferred budget and we'll help to provide a rough gauge of the animated video production cost.
We look forward to churning out impressive content together with you!