While it's easy to forget a song heard over the radio or somewhere on the Internet, a unique and impactful music video can help keep it etched in peoples' minds long after its release.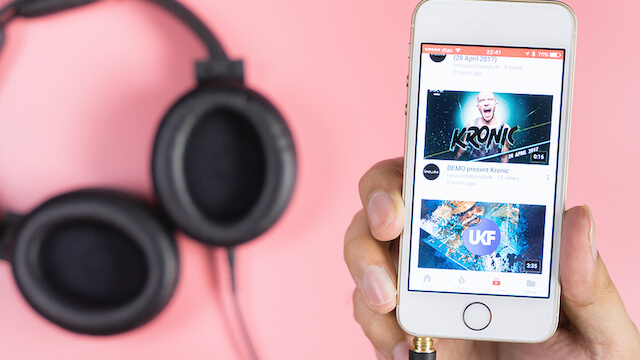 French film and music video director Simon Cahn said, "Even if everything is now digital, who doesn't want to have more than just the track…I would say the track is the burger and the music video is the full meal deal with fries and Coke."
Let's dive into the reasons why music videos are perpetually in vogue.
The significance behind music videos
It's no news that most music videos carry significant meanings that give songs an added dimension of complexity. Nowadays, there are even Youtube channels dedicated to creating videos that analyse the symbolism within music videos.
A pretty good example of this is Demi Lovato's recently released music video for her lead single, "I Love Me".
Lovato's music video is filled with imagery – there are scenes of her literally fighting herself – a metaphor for fighting her inner demons, a shot featuring a young woman on a stretcher which alludes to her drug overdose incident and, last but certainly not least, a groom and bride running past her in reference to her ex-boyfriend Wilmer Valderrama's engagement to Amanda Pacheco.
The song lyrics deliver a strong message about self-love and the music video complements it by referencing the various struggles in her life. Together, they work in tandem to create emphasis on how learning to love oneself isn't easy as it requires patience and perseverance.
We really have MTV (Music Television) to thank for the rise in music videos. After all, music videos weren't imbued with this much meaning and symbolism in the past.
Although musical "short films" first came about in the 1920s, The Beatles were the first few to bring about the idea of music videos through taped performances of their songs on television.
Take "Rain", a song they released in 1966, for example.
Afterwards, we saw artists promoting themselves on the television channel with their songs paired with visual imagery or choreographed dancing.
Some other artists wanted to raise awareness about global issues like social or political implications, as seen in music videos like Childish Gambino's "This Is America" and Beyonce's "Formation".
These videos include political commentary on the world right now, bringing up topics like terrorism, racism and police brutality.
Animated music videos' increasing popularity
Without a doubt, COVID-19 has been affecting many industries; the music industry is not spared. Traditional live shoots would have to be put on hold since it would flout safe distancing measures.
Thankfully, there's animation.
Dua Lipa's new music video release for her track, "Hallucinate" features visuals and animation reminiscent of the raging Studio 54 era, where a cartoon Dua is in the limelight at a pretty bizarre club. The video's art style pays homage to 1960s underground Zap! Comix, Adventure Time, early Mickey Mouse, and Superjail.
You might remember Gorillaz, a British virtual band created by artist Jamie Hewlett and musician Damon Albarn. Their music video for the song "Clint Eastwood", features an invasion of spirits, undead gorillas, gravestones breaking out from the earth, the performance of the world-renowned thriller routine and even a human versus zombie gorillas fight.
The strange yet outstanding animation has earned Gorillaz 339 million views on YouTube (as of July 15 2020).
The art of words: Lyric videos
Before official lyric videos were produced, there were many fan-made videos like this:
R.E.M's video for their song "Fall On Me" (released in 1986) marks the debut of the first  lyric video. However, it's only a simple music video that features lyrics overlaid on top of a moving background.
It's no surprise that lyric videos didn't gain as much traction back then.
It was only in 2010 when Cee Lo Green birthed the trend of lyric videos on YouTube with his release of "F*ck You", politely known as "Forget You". The motion graphics featured here were rather simple but the use of distinct, bold typography and sharp fluorescent background still grabbed the attention of audiences and inspired other artists to follow suit.
Case in point, Katy Perry's creative and colourful lyric videos which don't stop at words alone, but include the use of many other elements – from animated text-messages to delicious pastries.
Before the official music video's debut, artists typically release lyric videos to give fans a little sneak peek and keep them in anticipation.
Even MTV has recognised the popularity of lyric videos. As such, they've created a new category in 2014 – Best Lyric Video.
Obviously, Katy Perry's Birthday lyric video was nominated for the VMA's (Video Music Awards). Unfortunately, she didn't win the award. Instead, it was Australian pop-rock band 5 Seconds of Summer (a.k.a 5SOS) who clinched the award.
Their classic comic book-inspired lyric video featured the band members as comic book heroes surrounded in rich colours and quirky pop-art text. It's no wonder that they snagged the award from Katy Perry.
What it all comes down to for you
Versatile, quick-paced, captivating and, most importantly, doable; corporate animation is a great way to market your services and products amid these trying times.
So, what are you waiting for?
It's time for you to tweak your marketing strategy with an all-new animated video to your liking (and of course, your audience's). Meanwhile, if you're worried about going over your budget, we're open to discussing the animated video production cost. Now, let's get cracking and create a masterpiece!