When one thinks of South Korea, images of charismatic idols dishing out impressively-in-sync dance moves, soju bottles held by attractive female celebrities and unrealistically romantic K-dramas often come to mind.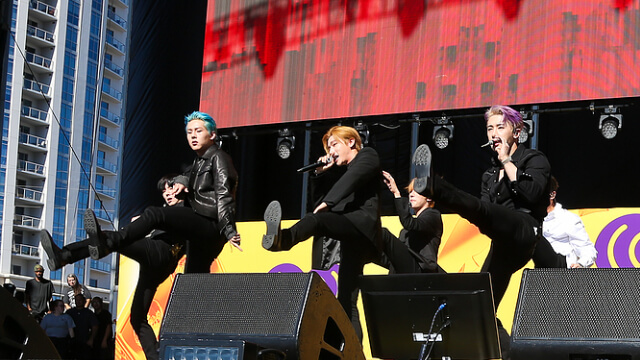 But that's not all that Hallyu has to offer. Recently, animation has become increasingly popular across the country; especially within the K-Pop scene.
With comics-turned-animation and gorgeously animated music videos on the rise – Korea's upping their animation game.
South Korea's animation in a nutshell
South Korea had its first-ever full length animated feature film made and released by a Korean studio in 1967. Titled Hong Gil Dong, it was a smash hit inspired by a traditional Korean tale which set an entire passel of animated films in motion – from Chadol Bawi to Hopi.
Korean animation has since evolved and we're seeing more modern creations like Pink Fong's Baby Shark song, which took the world by storm since its 2016 release.
Though it's more commonly known in its English form, the official version was actually in Korean. Somehow, it has gone viral on various platforms and has garnered the attention of individuals across all ages although it's originally meant for kids.
Another wildly popular animated character is Pororo the Little Penguin. The television programme received recognition from the Korean Ministry of Culture and Tourism, and even emerged as Seoul's mascot for transportation.
But animation for kids isn't the only thing that South Korea is excelling in. In recent years, they've become especially well-known for their webtoons or digital comics.
WEBTOON is a webtoon publishing portal launched by Naver Corporation in South Korea in 2004 that's home to thousands of creator-owned stories encompassing a range of 23 genres.
Now, WEBTOON is ready to take it a notch further by launching WEBTOON studios to bring forward a suite of entertainment platforms to the masses – from television, film and licensing to interactive entertainment and merchandising.
Having discovered the massive crossover appeal for their audiences, WEBTOON partnered up with Crunchyroll, a WarnerMedia subsidiary that publishes and distributes manga and anime.
Together, the duo is planning to create new animated content based on WEBTOON's catalogue of comics to reach a larger, more diverse pool of audience and drive traffic to their webcomics.
Hits like The God of High School, Noblesse and Tower of God have had worldwide recognition in 2020. WEBTOON hopes to achieve the same success with other webcomics and one way is to bring universally attractive and exciting characters to life with Crunchyroll as their partner.
K-Pop artists forge ahead with animation
Accelerating marketing efforts
K-pop idols' popularity relies on how well-received their discography and overall image is, which is often determined by the efficacy of their entertainment agency's marketing strategy to promote them.
Recently, animation has become an important aspect of such strategies.
Capitalising on the growth of K-pop titans, BTS, this set of animated BT21 character stickers were created to promote the boy band beyond their already massive sphere of influence.
The boy group even designed animated BT21 avatars in partnership with LINE FRIENDS, a global creative studio that partners with leading brands to create an exclusive range of media and entertainment content. The cute characters were adored by many individuals who weren't even aware that these icons were linked to the K-Pop giants.
But BTS isn't the only one using animation to build their brand.
In November 2020 – Sinbi from K-Pop girl band GFriend, released Be Yourself (Shinbi x SINB song) that was sung with character Shinbi from the animated movie, Shinbi Apartment: Doomsday.
It has since garnered over 870,000 views on YouTube and even managed to create some buzz on TikTok with people participating in their TikTok dance challenge. This is awesome because apart from it's entertainment value, the music video also delivers a heartfelt message to youth who are going through mental health struggles due to the COVID-19 pandemic.
Certain K-Pop groups are planning to reach out to more diverse target audiences by venturing into doing theme songs for animes and animated features to grow their fan base.
Kim Jae-joong of JYJ, a K-Pop idol distinguished in both Japan and Korea, sang Breaking Dawn, the opening theme song for Noblesse: Awakening – one of the most famous webcomics on WEBTOON illustrated by Lee Kwang-su and written by Son Je-Ho.
The song was sung in various languages – Japanese, Korean, and English to reach a wider audience.
Entrancing visual appeal in the making
Other than their animated BT21 mascots, BTS has also produced visually impressive music videos for their beloved "army". In the music video for their song Idol, viewers witness a chain of tasteful visual scenes rolling in one after the other for a wondrous spectacle.
The boys can be seen grooving in a computer graphic generated colossal Korean building against the backdrop of animated rainbow-coloured skies. They then whoosh into bizarre moving geometrical patterns and square rooms and suddenly pop up in a transparent box underwater surrounded by large 3D sharks.
The music video's out-of-this-world backgrounds were made possible thanks to 2D and 3D motion graphics and animation.
Catch the video if you haven't:
Of course, the artistic choices made for the motion graphics and animation carefully fit the theme of the song and accentuate each member's charm and personality.
It's time to up your branding game
In the world of K-Pop, MVs are as important as the song itself. YouTube serves as a powerful marketing channel that allows K-Pop labels to reach out to an international audience that often doesn't even understand the Korean language.
The main takeaway here is to start considering animation as a useful tool in your branding and marketing strategy.
Keen on using visual effects and motion graphics for your marketing collaterals? Or would 2D, 3D animation or even interactive media fit your campaign better?
Don't hesitate to approach CraveFX!
We're a video animation company well-versed in a suite of animation services. Drop us a call or submit a simple contact form and we'll give you some advice on what kind of animation would suit your needs along with the accompanying animated video production cost.
Let's get cracking!